Adult Manners Training
Good manners are the building blocks for a lasting bond between you and your dog. We combine fun daily activities with learning sessions designed to mimic everyday experiences. We will introduce and reinforce good manners in a program tailored to each individual dog.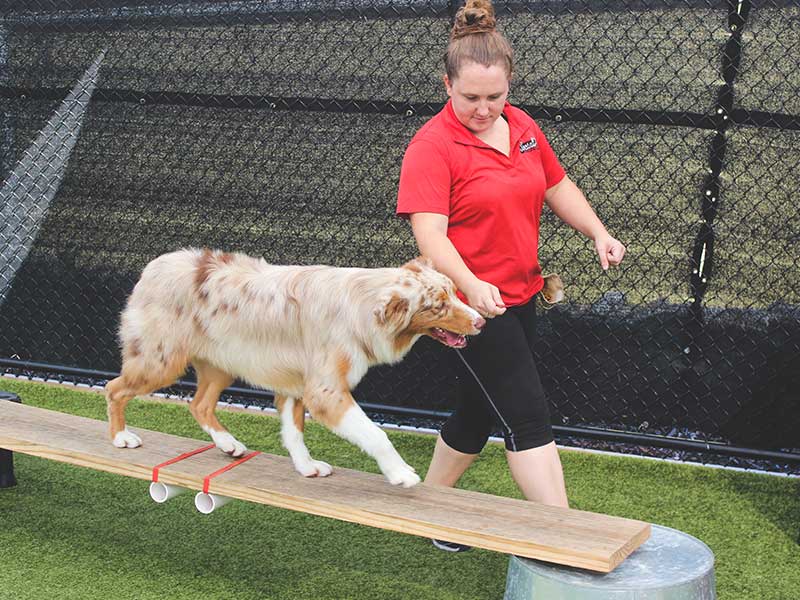 Customized Approach
A dog's progress and mastery will be individual. Parents and Enrichment Staff will agree to a reasonable expected outcome based on the dog's baseline established during the first training session.
What You'll Get
Social Pet Prep includes a balance of enriching small group or one-on-one playtimes and training sessions throughout the day, with rest times in a spacious villa.
Our Focus
1. Confidence
Establishing confidence is a key element to our program. Proper training brings out a dog's personality through confidence-building activities and positive reinforcement.
The Importance of Confidence
Most dogs are born to follow. Being a strong leader for your dog gives them the confidence to move forward knowing you have their back and will be there to protect them. Routines and consistency are key to your dog's success and confidence.
Confident Parenting
Consistently exposing your dog to a variety of stimuli that result in positive experiences is key to being the leader your dog needs.
2. Technique
Techniques learned in Canine Preparatory School promote positive interactions with other dogs and humans. Puppy Preschool is the perfect program to build a solid foundation through slow introductions and exposure to a variety of objects, noises, and people.
Technique in Practice
Name Recognition and Focus builds the foundation of positive reinforcement and experiences. This process creates a bond with individual dogs that builds trust and increases their likelihood of success.
Build at Your Dog's Pace
We provide healthy challenges to help a dog progress through their program. Utilizing positive reinforcement helps your dog learn and rewards them for all their hard work.
3. Commands
Obedience and command work mentally stimulates and improves a dog's cognition, which adds to a healthy and balanced lifestyle.
Commands in Practice
Daily practice in different environments builds trust and confidence in your dog. Your dog will listen to you and will enjoy being a part of your family even more.
Commands You'll Learn
Name Recognition
Sit
Place
Down
Off
Loose-leash Walking
4. On-Leash Manners
Whether you are out walking in your neighborhood, going on a doggy date to a local restaurant, or having friends over to your home, give yourself the peace of mind that your dog will be the best-behaved dog in town. This helps keep a safe environment for your family, friends, and your dog.
A Well-Mannered Dog...
walks loosely on leash, sits, and places. Your dog will demonstrate self-control in the presence of common distractions, that include other dogs, pedestrians, road work, children, loud noises and more.
5. Crate Training
Crates should be a comfortable personal space and a safety tool. Dogs that are destructive can be crated to keep them safe from potential dangers (chewing cords, trash with dangers, etc.) They are also useful when potty training a new puppy!
Why Crate Train Your Dog?
Crate training keeps dogs safe when they are unsupervised and ensures their safe transport or housing during various situations that may arise.
A Cozy Getaway
Many dogs love their crate, especially when it is covered or in a common area where the family gather. It is their personal getaway, and when left open, many dogs will go to their den (crate) to unwind.